I can't believe it is February already. Time flies…
I read 7 books this month. Two for my Mystery theme, two for Book Riot's Read Harder challenge, two Neil Gaiman books that I borrowed from a friend and one book that I had left from my December's Romance theme.
Gentle Rogue by Johanna Lindsey
This book was a leftover from December's Romance theme. I liked this book. It is about Georgiana Anderson who travels to the UK to find her lost fiance. She finds him married to another girl. To return back home she has to disguise herself so her brothers won't find out she has left. She disguises herself as a boy and finds a job as a cabin boy on a ship headed back to America. According to Goodreads, the captain of the ship is a gentleman pirate or "The black sheep of a proud and tempestuous family, the handsome ex-pirate once swore no woman alive could entice him into matrimony. But on the high seas his resolve will be weakened by an unrestrained passion and by the high-spirited beauty whose love of freedom and adventure rivals his own."
It sound a bit ridiculous but the book is a lot of fun. The relationship between Georgiana and James was interesting but there were some eye-rolling moments but those were replaced with the fun sexy parts.
My January theme was Mystery and I read two book for that. Malcom Mackay's The Necessary Death of Lewis Winter is a book that is part of the Glasgow Underground series. It's about how an underground organization went about killing a small time drug dealer Lewis Winter. What was interesting about this book was that you got to see the event from the perspective of the killer, the guy who helped him, the people who hired him to kill Winter, Winter himself, his girlfriend and the detective who was investigating the case. I like this book. I didn't like the detective's POV because he really hated Winter's girlfriend and even though she wasn't a good person and had a hand in Winter's death I thought it was a bit much how he kept thinking about her as scum and a bitch.
The second book was One Kick by Chelsea Cain. From Goodreads "Kick Lannigan, 21, is a survivor. Abducted at age six in broad daylight, the police, the public, perhaps even her family assumed the worst had occurred. And then Kathleen Lannigan was found, alive, six years later. In the early months following her freedom, as Kick struggled with PTSD, her parents put her through a litany of therapies, but nothing helped until the detective who rescued her suggested Kick learn to fight. Before she was thirteen, Kick learned marksmanship, martial arts, boxing, archery, and knife throwing. She excelled at every one, vowing she would never be victimized again. But when two children in the Portland area go missing in the same month, Kick goes into a tailspin. Then an enigmatic man Bishop approaches her with a proposition: he is convinced Kick's experiences and expertise can be used to help rescue the abductees. Little does Kick know the case will lead directly into her terrifying past… "
This book is very interesting and I got so into it. Kick is a badass female character, who has been through so much as a child and learned how to defend herself. Feeling guilty about her action as a child where she helped her abductor and molester delete files about other people in his world she decides to help Bishop who is one shady shady dude. I was so looking forward to the sequel and then I found out that the author changed publishing companies and they won't publish it. ARGH!!!
The two Neil Gaiman books I've read are M is for Magic, a collection of short stories and The Ocean at the End of the Lane. I really liked M is for Magic. I love fantasy and horror short stories so this one a big hit for me. I think my favorite one where the months of the year get together and share stories. The second one was a bit creepy and disgusting. Especially the part when the main character pulled a giant worm thing from the sole of his foot. UGH!
From Goodreads "Sussex, England. A middle-aged man returns to his childhood home to attend a funeral. Although the house he lived in is long gone, he is drawn to the farm at the end of the road, where, when he was seven, he encountered a most remarkable girl, Lettie Hempstock, and her mother and grandmother. He hasn't thought of Lettie in decades, and yet as he sits by the pond (a pond that she'd claimed was an ocean) behind the ramshackle old farmhouse, the unremembered past comes flooding back. And it is a past too strange, too frightening, too dangerous to have happened to anyone, let alone a small boy.
Forty years earlier, a man committed suicide in a stolen car at this farm at the end of the road. Like a fuse on a firework, his death lit a touchpaper and resonated in unimaginable ways. The darkness was unleashed, something scary and thoroughly incomprehensible to a little boy. And Lettie—magical, comforting, wise beyond her years—promised to protect him, no matter what."
For Book Riot's Read Harder challenge I've read books for topics Read a fantasy novel and Read a book that is set in South America or is written by a South American author.
For the Fantasy one I read Six of Crows from Leigh Bardugo which was fucking awesome!!! It totally lives up to all the hype! All of it! For you who don't know this is book about a bunch of teenagers who are lead by Kaz while they try to pull of an impossible heist. The relationships between the characters and their backstories are so interesting. I am currently reading the second book. So FUCKING good!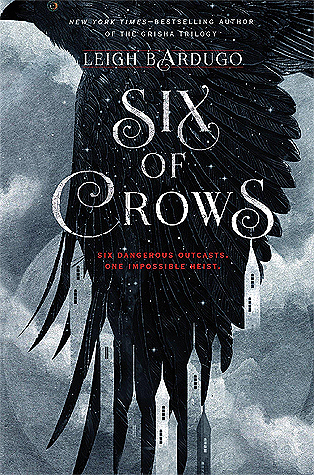 For the South American one I read A Hundred Years of Solitude by Gabriel García Márquez. Man, that book is soooo strange. From Goodreads "The novel tells the story of the rise and fall of the mythical town of Macondo through the history of the family. It is a rich and brilliant chronicle of life and death, and the tragicomedy of humankind. In the noble, ridiculous, beautiful, and tawdry story of the family, one sees all of humanity, just as in the history, myths, growth, and decay of Macondo, one sees all of Latin America." It takes a bit to get into but when you just accept that this family is beyond fucked it a really interesting read. 
So that's it for January.
Have you read any of these? Leave your answers in the comments.