The year is coming to an end and naturally here come the best of the year lists and videos on BookTube (which I've really been enjoying).
This is my reading year according to Goodreads.
My Goodreads challenge was 40 books which I haven't reached but that is OK because I've read 37 books which is great.
This year I read a couple of series, The Lunar Chronicles by Marissa Meyer which I really liked because I am a big fan of science-fiction and I'm pretty sure these were the first books I've read that have a cyborg as a main character. Cinder and Scarlet were my favorite of the series. Then I read Penryn and the End of Days series by Susan Ee. Which got worse as it got on. I found out later that this was supposed to be a six book series but got cut to three.
I discovered V.E. Schwab this year and she is amazing. I read the two books in her Shades of Magic series which is great. I took me a bit to get into the first book A Darker Shade of Magic but the second one was soooo good.
I started rereading the Harry Potter series by J. K. Rowling. I've reread everything except the fourth one. I'm hoping to do that soon.
In August I decided to do something new and I made a list of book themes for each month with a list of three books to expand my reading interests. For example, September was all about zombies and I made a list of three book with zombies in it to read. October was Historical fiction (fucking Outlander), then November was Classics (Lord of the Flies was a mind fuck!) and December is Romance (ugh Shanna).
Also, I discovered BookTube this year and also book box subscriptions like Fairy Loot and Nerdy Bookworm.
But let's talk about my favorite books in 2016.
The Aeronaut's Windlass by Jim Butcher
I am a big fan of Jim Butcher and was very excited when I found out that he wrote a freaking STEMAPUNK book. This was the first book I've read this year and I loved it.
It is set in this world where most of humanity lives in different Spires. "Captain Grimm commands the merchant ship, Predator. Fiercely loyal to Spire Albion, he has taken their side in the cold war with Spire Aurora, disrupting the enemy's shipping lines by attacking their cargo vessels. But when the Predator is severely damaged in combat, leaving captain and crew grounded, Grimm is offered a proposition from the Spirearch of Albion—to join a team of agents on a vital mission in exchange for fully restoring Predator to its fighting glory." (Goodreads)
2.  A Court of Mist and Fury by Sarah J. Maas
What is there to say about this book that hasn't been said before and many many times? I discovered Sarah J. Maas last year and I devoured her Throne of Glass series and this year I read the Courts. This one is great.
3. Dumplin' by Julie Murphy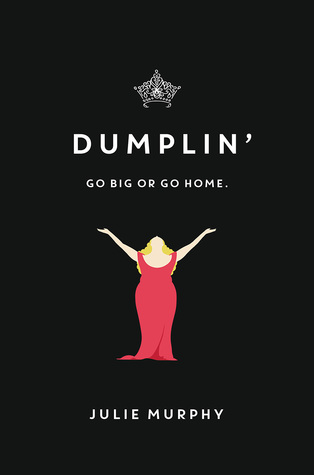 Willowdean, nicknamed "Dumplin'" by her mother and called "Will" by her friends, is an overweight teenager that has always felt that she was comfortable with her body and herself. She doesn't care that her mother was a teen beauty queen or that people have poked fun at her for her weight. All of that changes when she meets Bo, a handsome boy her age that has expressed interest in dating her. Suddenly Will is full of insecurities and can't bring herself to date him out of fear of what others would say. In order to prove to her self worth, Will has decided to enter and win the Miss Teen Blue Bonnet Pageant. However as the date of the pageant progresses, Will finds that it's not that easy to take part in a pageant – especially after her best friend Ellen decides to enter. (Wikipedia)
This book spoke to me on so many levels, being a fat girl myself this book was spot on. I really, really liked it. Choose to ignore the teenage drama.
Some honorable mentions:
Cinder by Marissa Meyer
Gone Girl by Gillian Flynn
Red Rising by Pierce Brown
Killing Floor by Lee Child
The Book Thief by Markus Zusak
Magic Binds by Ilona Andrews
And that's it for my favorite books of 2016.